The path always has boulders in it. It takes some strength to move those boulders. Sometimes it takes the help of others to help move them. Once the boulders are out of the path, you generally come out stronger.

These roadblocks can educate us, help us grow and learn about mistakes. A clear path leads to a clear head, and a clear journey. Trust yourself. Trust the spirit within you.

The ego can be a boulder. Stillness can help dissolve this ego. Simple guidance is usually what we need, because ego-driven thoughts can assert themselves and become that boulder.

The inner voice is an individualistic voice, but also a universal voice. To access the still

inner voice

, contact your body. Be conscious of your body and what it is telling you.

Society has conditions and morality, but can be misleading and can go against the intuitive nature of reality. Break free and assert your own inner peace for clarity. Things will start to arrange themselves and settle into place accordingly.

You can't think about how to find balance, it usually comes from a deeper sense of what's trustworthy inside your source. When you fall down, just pick yourself up. Don't over-analyze it. It's realizing what's more intuitive and quiet. The voice of truth just presents itself.
Powered by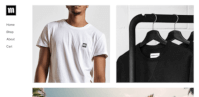 Create your own unique website with customizable templates.