Watch everything arise and find space. It's very liberating. When there is no space, you are whatever your conditioning throws at you.

When a deeper quality of your being becomes aware, you find a quality of life that supports your purpose. It takes patience and a deep awareness of the present moment. Winding paths, crashing waves and heightened emotions can cause instability, but question if that's really you.

Let go of the witness. With space, there are options. Internal clarity is important for awakening and growth. The vast space of consciousness is vital.

If anybody has had a

deep fundamental awakening

, you have experienced a deep spaciousness. Connect with your spiritual source and live life to the fullest. Share your experience with others and continue the momentum.

A journey starts with a single step. Put one foot in front of the other.
Powered by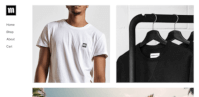 Create your own unique website with customizable templates.