The law of attraction can seem like a very mysterious and complicated theory. It just so happens that our thoughts really do act like magnets. What you focus on, you will get. Some things take longer than others, but eventually you will receive what you perceive.

I find that when I have bad thoughts, those bad thoughts seem to be everywhere I go and for some reason, bad luck follows.

Luckily, I know that if I can shift my focus on positivity, relaxation and enjoyable actions - things just seem to work out and fall in to place.

The

law of attraction

really is a powerful "tool" if you want to call it that, but it seems like more of a human nature type of thing. Whichever mood you are in, people and things seem to match that mood. It seems obvious.

So direct your attention first thing in the morning on the things you like, want, need and make your wishes come true! Do this on a daily basis and watch the miracles happen.
Powered by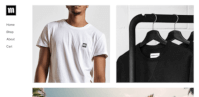 Create your own unique website with customizable templates.